Media, Film & Television

With advanced technologies in cloud computing, big data, AI, etc. and rich experience in the broadcasting industry, Sugon closely integrates the development trend of the broadcasting industry. In media, cloud computing, big data, smart broadcasting, artificial intelligence, 4K/8K High-definition, IPTV, OTT, media asset management system, broadcast control system, operational analysis, etc., provide comprehensive services and advanced intelligent solutions for the broadcasting industry.
With the rapid development of Internet, the requirements of customers on the varied and updated videos also have grown with leaps and bounds. However, the traditional way of model building could not keep up with the times. Since it involves contents and services, it will require daily updated information and the collection, downloading and distribution of videos by qualified professionals. In the meantime, the comprehensiveness, promptness, popularity and security of videos cannot be guaranteed, and the lack of professional video editors due to staff shortage would lead to several problems which include an out-of-date video, differentiation in the video format, and the instability of video quality.
With years of researches in the industry, Sugon has realized the tremendous changes in the industry and provides the project of Video Cloud, including subsystems of video editing, business processing and videos storage.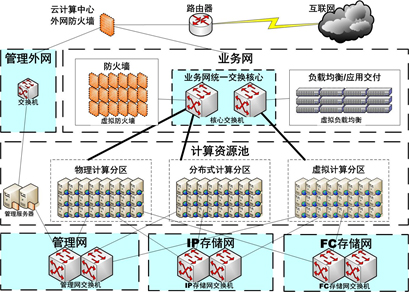 Most of the applications are built based on the client/server structure, and the system of virtual server in the project can easily transfer the original applications to the IaaS cloud Computing Platform. The development of hardware techniques, especially with the development of multi-core techniques contribute to a much more powerful server in recent years, has already exceed some of the applications' requirements for the server. The virtual host technique can simulate several independent virtual hosts powered by only one server, and dynamically equip multiple resources, which include CPU, storage and driver space, for each virtual host.
Considering the high concentration of video business, this project suggests that we can make use of four-route server, Gigabit network, FC-SAN+IP-SAN mix storage, precision cooling system and large scale cloud management system to build a highly stable and extendable video cloud service platform.