Wasu media network Co., Ltd (Wasu media) is the corporation specialized in the operation of digital television network and development of new media. Wasu media owns the biggest media resource library of digital programs in China, and is the biggest interactive television content provider and the biggest 3G mobile phone television content provider in China. It is also the main operation service platform of local cable digital television network and the interactive television facing the customers in China, which owns more than 2 million digital television users.
The fast developing digital television programs need mass storage resources. However, the current storage system cannot meet the development needs of Wasu's business. The original users' storage system mainly uses the FC-SAN storage which performs poorly on the performance and storage expansion. This means that both the system storage performance and the capacity cannot meet the needs of users, and in the meantime increase the difficulty of management. Therefore, users want to establish a new storage system as an independent operation interchange area, requiring stable performance, security and reliable, good expansion ability and easily manageable of the operation area's features. Through multi-times of technical communication and real-time investigation, the client chooses Sugon ParaStor mass data storage product to establish this storage platform.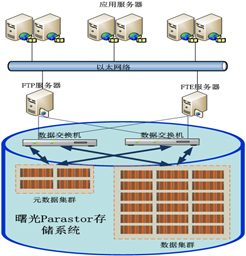 As shown above, the parallel storage system of Sugon Parastor specially designed for this project includes Metadata node cluster and Data node cluster. It uses techniques of Metadata node HA working modes, redundant data network, metadata and multiple copies of data to ensure the security and reliability of the storage system and remove any possible failure point. Through the usage of the Parastor storage system, client can expand the storage capacity and performance of the system to hundreds of PB's capacity and hundreds of GM' integrated bandwidth easily. Beside these, client can manage mass business data easily through the unified human-friendly management interface.
In this case, acting as the partner of the Wasu Corporation, the Sugon Company offers hardware sustain platform and content management platform for IPTV business, provides hardware products for media business and province-network distribution. Since Wasu Media is the biggest Sugon storage server client in the industry, it is bound with Shanghai Sihua Company at the operational level. The stable operation model of the two companies brings them mutual beneficial situation.