Harbin Yuanshen radio and television network Co. Ltd is the only regional cable television network service provider in Harbin. After 17 years' construction and development, the Harbin cable television network is now being fully upgraded and reformed into the larger capacity, wider bandwidth and multi-functioned comprehensive broadcasting television information network, which is able to conduct the business of Tri-networks integration and provides services, such as virtual television, digital television business, two-way digital television business, VPN (virtual private network) data business, network connection business and group meeting business.
Harbin Yuanshen radio and television network Co. Ltd is responsible for the broadcasting television network in Harbin and the distribution of the cable television signal for the entire city. It is focusing on the building of three screens syncretic, interactive platform of high-definition 3D digital television, digital city platform, the application platform for the city's Internet of Things and a new business platform of Tri-networks integration.
This project is the first-stage project of the construction of the cloud computing platform for Harbin Yuanshen radio and television network Co. Ltd, which would be used in the internal broadcasting television business and providing cloud service for the outside as government cloud platform. The Sugon Company showed itself from many competitors and won the project by providing the excellent product feature, perfect problem solving project and abundant experience in the operation of cloud computing. The platform's features of this project combine China-made cloud computing platform, three levels' guarantee of safety standards, and Sugon's first successful application of Cloudview within the industry of broadcasting television all together.
This project is allocated with 12 four-route servers A840r-G, 2 virtual disk array DCstor (32TB's storage capacity) and Sugon Cloudview cloud computing management system to establish a national wide cloud computing center. The entire topology figure is shown below.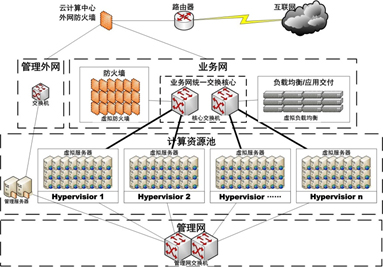 In this project, through the building of cloud platform, it solves the problems of users' long-term existed decentralized system, long construction period and the low utilization ratio of resources. It also realizes the system's rapid deployment, resource distribution according to needs of equipment and the smooth expansion of the resource pool. With Sugon Cloudview cloud computing management platform, the unified management upon IT resources of the system is successfully realized.