Small and micro network system, built by Nanjing Radio and Television Group, is the city comprehensive audiovisual interactive portal site, which includes bandwidth video, news, entertainment, interactive service and community. It fully makes use of new media information distribution modes including network, mobile terminal and IPTV to realize the integration transformation of traditional media and newly developed media. This system targets 3G mobile phone users as the main mobile terminal group.
Sugon participates in the building of small and micro network system for Nanjing Network Television, Nanjing radio and television Group Co., Ltd. The entire platform consists of five parts, content production, storage and distribution, comprehensive management, data transmission and terminal users receiving.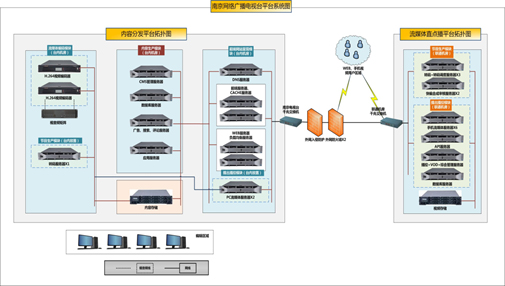 The content productions in the entire platform are divided into on-demand content production and direct content production. It can transcode the original video documents, such as DVD, VCD and recorded programs, into united format for online usage through general PC and transcoding software. The resources of direct broadcasting can be total control broadcast signal, cable TV, video camera, satellite signal and special integrated documents. The original signals can be compressed and recoded by the use of video and audio coding programs. The parts of storage and publishing refer to the realization of the storage of request, direct and recorded documents by the usage of memory array or NAS to conduct validate management and inquiries. The produced contents can be published through content management system and be free to define page style. Video and audio data coding can be done through DRM digital copyright protection technology. The coded documents and data flow cannot be cracked and downloaded online, and can be combined with billing system. The direct request clients received by clients make use of FLASH and HTML5 self-detect technique to determine the type of PC and mobile clients to automatically choose the watching ways.
The hardware platform consists of WEB server, data base server, application server group, disc storage and Network security equipment. This system uses 26 Sugon dual server I620r-G, 2 packs of DS900 high end FC-SAN storage, DS200 double control IP-SAN storage and 4 KVM telescopic consoles to establish small and micro network system data platform.