The information system of office work and finance for Nanjing Broadcasting Group Co., Ltd was established more than seven years ago. With the development of information technology and quick expansion of broadcasting and television business, the original system platform cannot meet the needs of current business and management requirements. In the meantime, all purchased equipments are under the condition of extended service, which makes the security and reliability of the system below the requirements of the new group office information platform. Under new situation, the company needs to replan and upgrade the existing system platform, building an integrated, expandable and highly available collaborative operating management platform with high performance.
After detailed communication with users and considering relative singleness circumstance and moderate amount of access of the original platform, the Sugon Company proposes that it could use the new generation of the equipment, which has a higher performance, to replace the original system gradually, keeping the original structure unchanged. The detailed topological graph of the designed construction project is shown below.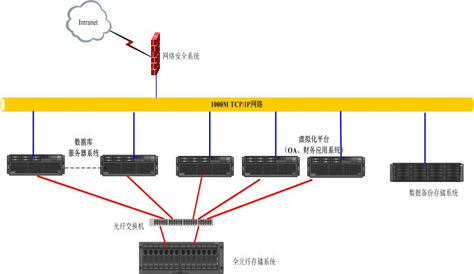 This system project consists of firewall, application server system (5 four-route servers A840), database server system, storage system (1 set of DS800 optical storage), backup system (1 set of DBStor all-in-one backup system), and multiple virtual software and apply highly usable software.
The application server system mainly provides various application services, such as OA and financial, which is highly expandable and usable. Database server system provides data service for network users, which is the core equipment of the entire system platform, requiring high transaction processing ability, high performance and high reliability server system. The application server group uses virtual platform and database server group uses dual equipment, which are all have the features of easy maintenance and management, expandability and high reliability. Considering the security of the data, the system also provides backup and recovery functions for database and important documents.
With adopting the Sugon Company's design project, the users greatly enhance the efficiency of office work, shorten the period of deployment, and reduce the investment in the maintenance of system.